by Joshua Brauer on January 3, 2006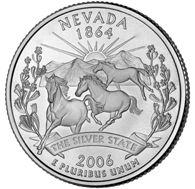 This new year brings new quarters for Nevada. Starting today the Denver Mint will begin minting the 36th state quarter. The design chosen by Nevadans features three wild horses running in the foreground and snow-capped peaks in the distance with sagebrush framing the state motto - The Silver State.
Other designs in contention paid honor to Nevada's role as the Battle Born state of the Civil War, Nevada wilderness, silver mining history and pre-columbian history.
The quarters will begin being distributed in Nevada on January 31. No word yet if you'll have to get them from a slot machine or if they'll be available from the local bank. It is thought, however, that the state quarter program may be a great assistance to grade-schoolers in American History tests calling for the date of admission for each state.