by Joshua Brauer on November 9, 2006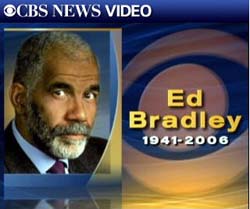 Sad news today of the passing of veteran journalist Ed Bradley. I was fortunate enough to hear Bradley speak at UNLV in the early 90's. Though I had not yet chosen to study journalism he was an absolutely inspirational person. "When it gets to the point where it's not fun anymore, I've always hoped that I would have the courage to say goodbye and walk away from it," Bradley said. Sadly leukemia caught up with Bradley and we are left with memories of this great journalist.
Bradley said of himself "I had had no training as a journalist and I used to listen to the CBS News hourly reports. That was my classroom." A great reminder to all the citizen journalists of the world that it doesn't take a degree and a lot of experience to get into the field. Instead it takes hard work and persistence.