by Joshua Brauer on January 11, 2008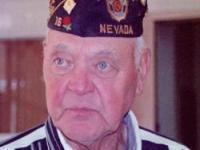 A very sad passing this week. Fred Anderson was Mr. Nevada Boys' State. For decades Anderson has been the face of Nevada Boys' State both in Nevada and at national conventions. It is hard to imagine just what next summer's session will be without Fred's "oh golly" and recounting of how this year's group of kids is the best we've seen.
Fred W. Anderson

Fred W. Anderson passed away on January 7, 2008 at the age of 85. Born March 21, 1922 in Colrein, MA to Fred W. Anderson and Ida Larson Anderson. Fred moved to Fallon, NV in 1926 at the age of 4. He attended Fallon schools and graduated from Churchill County High School in 1940. After high school he worked for the railroad until entering the Navy in 1943. He was released from the Navy in 1946. Fred then attended Utah State Agricultural College from 1946-1951 (graduated in 1950) and entered the Army in June of 1951-November 1952. Fred also attended the University of Washington. He moved back to Fallon where he taught school from 1953-1981. During his school teaching years and to date, he was very active in the American Legion serving every office on the Post level, District level, and Department level. He also served as State Commander in 1971-1972 and as National Vice Commander over the 13 western states in 1975-76. Fred was the American Legion Baseball Chairman for 4 years, State Oratorical Chairman for 3 years, and was Director of Nevada Boys State from 1973 through 1992. He served as State Adjutant of American Legion 4 years between 1982 and 1987. Fred has been a volunteer at the Reno Veterans Hospital from April 1983 until present and was selected as Volunteer of the Year in 1995. For 3 years he served on the American Legion National Commission on Children and Youth and then served on National Security Commission from 1978 through the present time. In addition to this, Fred was an avid college football fan and enjoyed recording as many stats as humanly possible in one Saturday afternoon.

Fred is survived by his wife of 36 years, Ivy G. Anderson, step sons: Gerald York (Marlene) and Charles York, sister: Margaret Wheeler, nephews: John Gill and Jim Gill, grandchildren: Bryan York, Theresa York, Risa Lopez, Leanne Crawford, and Susan Alexander.

Fred was a very generous and caring individual who always put others first. He was a dedicated servant to the public and asked nothing in return. He will be missed but not forgotten by not only his family, but by all the others whose lives he touched.

A funeral service with military honors for Fred will be held at 1 p.m. on Saturday January 12, 2008, at Walton Funeral Home Sierra Chapel, 875 W. 2nd St., Reno.

Published in the Reno Gazette-Journal from 1/10/2008.