by Joshua Brauer on February 3, 2008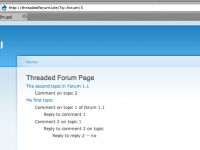 Part of devoting my professional undertakings to Drupal has been to begin doing some more serious module development. Thus we have a preview of the Forum Thread module. It is a module that I'm developing for a sponsor and will be releasing on Drupal.org in the next couple of weeks. The design is to take Drupal's standard forums and in the most Drupalish way possible provide threaded forums that are more similar to the traditional forum look of My Little Forum or mailman archives. Having looked at several of the existing forum solutions I didn't care for the "bolt-on" nature of the forums. It seems it should be possible to do it with native Drupal forums and without adding any additional data to the database.
To that end this screenshot gives a look at a very early version of the module. For reference this screenshot shows the standard forum view of the same forum.
I'll post more details soon but this also factors into my battle plans for Drupal 7. In addition to getting on the bandwagon of changes for the Project module I want to drive some changes in the way the forum and comment modules work. It seems distinctly un-Drupalish that comment_render exists. At a minimum this function needs to be split into a get_comments and comments_theme functions.