by Joshua Brauer on March 8, 2008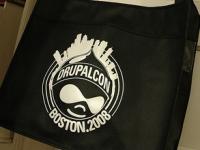 Conference bags have long been a source of frustration. Since my early days in the publishing industry I've been collecting, culling and donating them. It seems such a waste to have such nice and pricey bags go to waste or be used only a week before being recycled. Certainly there is somebody who gets use from it eventually but it has long seemed there must be a better way. Thanks to Drupalcon we now know for sure.
Drupalcon's bag, pictured here, was made of the lightweight material that makes up many reusable grocery bags. As a mater of fact, now that the conference is over I have another grocery bag. It would be great if more conferences would go this route. We will know real progress has been made when the disposable bags on trade show floors are replaced with reusable versions. Actually it will be real progress when the last trade show dinosaur is gone. But that's a topic for another post.