by Joshua Brauer on June 27, 2008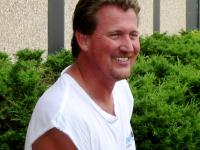 This afternoon brought one of those emails that one never wishes to get. It was the sort of email that has a simple subject, just a person's name, and asks to give a call to the sender. While grateful for my friend who shared the news I always wish the news was better. Today it was the sad news of Bob Roush, 44, passing earlier this week.
As I was flying to Baltimore last week I emailed Bob to get his current phone number as I didn't have it on my phone. The email bounced. Then a couple of days later Bob called me on a whim. He told me how he was quoted in the Devner Post story about the end of Tiger Woods' golf season and we caught up on how the families were doing and the journey of life. The ups and downs. As always he spoke with great enthusiasm when we turned to talking about his kids. In all the years I knew Bob nothing caused him to get as excited as talking about his kids and how proud he was of them. Having had the pleasure of spending time with his family it is clear why this is the case as they are great kids, the kind of people you leave hoping your kids will become.
We last saw Bob a little over a year ago. His daughter Ashley was graduating from high school. As we had done for Justin before her, we put together a memory video for her graduation party. It was Rosalind's first airline flight and the first time she had been much past the Nevada state line. I had gone through the motions of Fed-Exing a coy of the video to Bob so he wouldn't catch on that in addition to the video we were going to come along and crash the party. It was a great time and we'll always have fond memories of that beautiful afternoon in the Colorado front range.
Though we hadn't talked as much lately the calls were always memorable. One call I'll remember forever came back a few months after Bob had become manager of the support center I was working in. It had been a long couple of weeks where the days seemed to run into one another without leaving room for the nights between them. Bob called me as I was driving home and told me how much he appreciated working together. That kindness meant a lot.
The sadness in such an untimely passing is great. There are so many stories to be told and memories to hold close. Watching Notre Dame football, Justin's baseball games, Ashley's gymnastics meets, catching a beer after work, the good times and the tough times all come to mind as we hold our dear ones a little closer. Our thoughts and hearts are with the whole Roush family as they remember and celebrate Bob's life.
Here is the memorial service notice published June 30, 2008:
ROUSH, ROBERT CLARK Robert Clark Roush, 44, of Arvada, CO. Husband of Elizabeth "Buffy." Father of Justin and Ashley. Son of Clark and Patty. Brother of Juli, Joe, and Steve. Mass of Christian Burial, Tuesday, 10:00 a.m., Shrine of St. Anne, 58th and Webster. Services to conclude at the Church. Family suggests memorial donations may be made to: North JeffCO Baseball Association.