by Joshua Brauer on June 4, 2008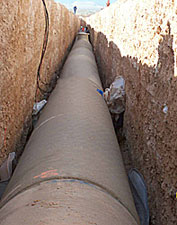 On May 23 Southern Nevada Water Authority asked to have hearings on their applications to import more than 16 billion gallons of water annually from the Snake Valley in North Eastern Nevada. At SNWA's request the hearings were scheduled in record time. The gavel goes down on July 15. The quick start date for the hearings makes it challenging for those with an interest in the applications to make sure they are heard.
Snake Valley
Nevada's Snake Valley stretches into Utah, making the applications of interest to those in the water challenged areas of both states. The basin also is home to Great Basin National Park, Nevada's only National Park.
"We know there are a lot of very vocal people who live in Snake Valley. We've seen that in the other hearings," Kay Brothers, deputy general manager for the Southern Nevada Water Authority told the Las Vegas Review Journal. The article in the Review Journal lays out a schedule where the hearings will be started in July and then continued to next year.
One is certainly left to wonder if this quick hearing call isn't designed to stack the deck in favor of the Southern Nevada Water Authority. The tight timeline makes it difficult for many public bodies to even meet and decide to take action before paperwork must be filed with the state engineer.
One wonders at this colossal blunder. So far the Southern Nevada Water Authority has refused to make any sort of real estimates about the cost of such a pipeline. Yet a state in the midst of a terrible economic situation, which looks to be willing to slash education to save $96 million a year is willing to continue with pipe dreams that are well in excess of the oft quoted $2 billion dollars. And were the pipeline ever constructed who is estimating what the costs of securing a facility that is hundreds of miles long against evildoers.