by Joshua Brauer on March 21, 2009

Everywhere you look people are tweeting or twittering. If you can find a newspaper it would almost certainly contain a story about Twitter. Many interesting conversations and exchanges happen on Twitter each day.
This brief introduction, however, looks at another use for Twitter. Perhaps you're not yet ready to take the leap to spending your free time telling everybody around the globe what is happening all the time. That's just fine. We'll look at setting up a Twitter account and how it can be used to track a special event such as a family reunion.
To get started head to Twitter.com. Once there look for the large green button that says "Get Started".
When you submit your cell phone number the next page will show you a few letters that you need to send as a text message to 40404 in order to activate your ability to use the account with your cell phone.
On the next page Twitter will ask for your name, preferred username, email address, and password for your account.
The next two pages will show options for finding your friends as well as a list of suggested people you might want to follow. In both cases there is a "Skip this step" link at the bottom of the page. You can skip this step for now and check for friends later if you desire.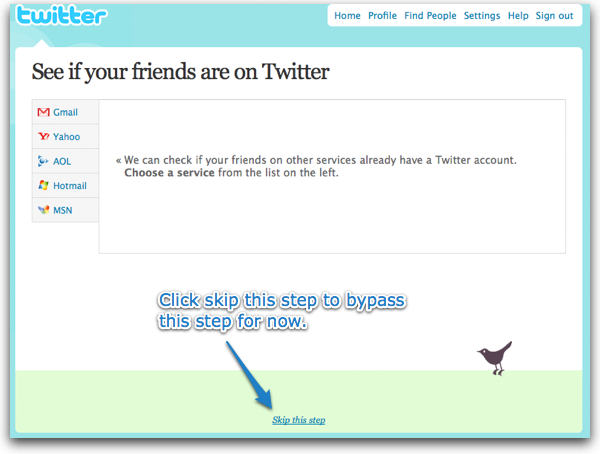 Now you're signed in. The home page has several options including a link in the lower right portion of the page tha invites you to setup SMS updates. This will allow you to setup your cell phone to send or receive updates from those people you follow.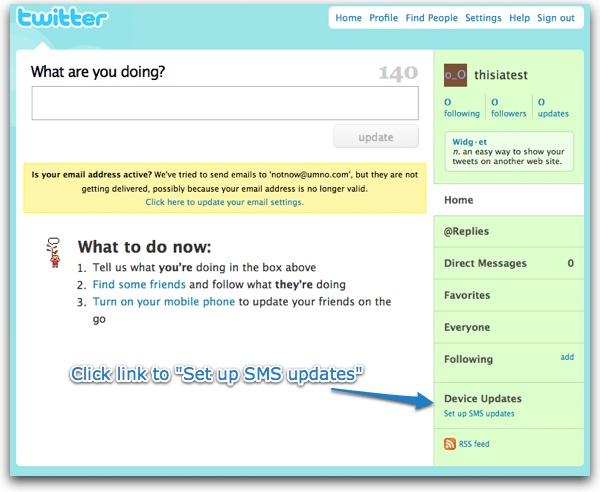 On the following page add your mobile phone number. If you are in the United States the number will be in the form +17025551212. The text field can be hard to see in some browsers but is just to the left of the Save button. Note the messages that explain while Twitter does not charge for this service you may be charged by your cell phone carrier.
After submitting your cell phone number you will be asked to text message a short set of letters to 40404 in order to activate your ability to use Twitter with text messaging on your phone.
With all those settings in place you're all set to start adding people you want to follow on Twitter. For my tweets for example you could visit http://twitter.com/jbrauer and click the Follow button at the top of the page. If the person you choose to follow has set their updates to be private you'll have to wait for them to accept your follow request before you will start seeing the messages.