by Joshua Brauer on May 6, 2008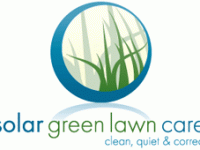 How does one green up their lawn while being true to keeping their carbon footprint small? We've got the push mower but it just doesn't leave the grass quite long enough and is tough to keep the blades sharp for really clean cutting. There have been times we've thought about going the lawn service route, but the noise, exhaust and annoyance factor is quite high.
Enter Solar Green Lawn Care. We recently signed up with this great new service. What's so different? Solar Green uses battery powered equipment that is charged from their solar-powered trailer. A few times a year they plug in to the house to run the edger, the one piece of non-battery powered equipment they have. It's a terrific concept and I'm quite happy to have such a service here in Boise.
On top of all that they have very reasonable rates and should be able to keep them reasonable even when the price of gas continues to spiral upwards.