by Joshua Brauer on August 29, 2010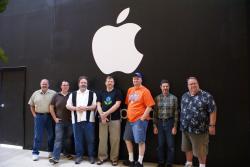 Two years ago I wrote about Boise needing an Apple Store. Since then plans for the store, even the whole shopping center, where the Apple Store was expected to go went off the rails. The land, the Whole Foods that never got built, and the whole shopping center remains an irrigated field on at the corner of Eagle and Fairview.
The good news for the Boise Mac User's group all all others who would love to see an Apple store is that soon one will be open. The location has changed but the iconic white apple on a black background can be seen at the Town Square Mall.
If the rumors are correct Saturday, September 11th, 2010 will be the opening day for the store. On Saturday several members of the Boise Mac User's group gathered for a photo outside the shop. Unable to resist a peak in the open door it appears things are moving along nicely as the store already looks very much like an Apple store on the inside.
While we were there a woman in the Coach store across the isle was very interested in what we knew. She said they were anxiously awaiting the opening and were happy to have the jackhammering be over.