by Joshua Brauer on November 30, 2010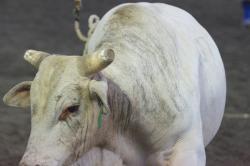 Thanksgiving is past and Christmas is just a few weeks away which means Las Vegas turns into the city of the National Finals Rodeo. Whether you have tickets for the rodeo or just want to do some shopping Cowboy Christmas is one of the best times you can have in Las Vegas. Contrary to what the ads say this part of what happens in Vegas doesn't stay in Vegas.
Even if you're not going to make it to Las Vegas this go-round you can follow the action from the NFR list on Twitter.
Here's a round-up of the various major gift-shows and sales going on:
The Las Vegas Convention Center hosts the Cowboy Christmas Gift Show which is open 10AM - 5PM daily from Thursday, December 2 through Saturday, December 11 at the Las Vegas Convention Center this show bills itself as "longest running and only "Original" gift show of the Wrangler National Finals Rodeo." The convention center is easy to get to on the Monorail as well making it hassle-free to get to.
My personal favorite the Ariat Country Christmas Western Gift Expo returns for the 17th year at the Sands Convention Center and runs from Thursday, December 2 - Sunday, December 12. The Ariat Country Christmas is open 10am - 5pm daily. The Ariat Country Christmas is the only of the three to be open on Sunday Dec 12. This flyer lists daily performances from the 2nd through the 11th.
Not a gift show but the 64th annual PRCA Convention Trade Show is also happening at the South Point Hotel with a complete roster of activities.
The Mandalay Bay Convention Center will again play host to the Cowboy Marketplace Western Lifestyle Expo December 2 - 11 which is open from 10am - 5pm daily.
The Shepler's Tent Sale is a longer running sale at the big tent setup in the Sams Town parking lot. The Tent sale runs November 6 - December 24 and is always good for finding some bargains.
If you're checking out the various marketplaces be sure to consider the monorail as the easy way to get up and down the Strip. Want to take in a show while you're in town? There's a handy list of the shows at various places.