by Joshua Brauer on December 5, 2012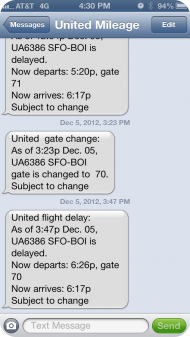 Today began as many travel days do. I checked the phone and looked to see what United's app said before jumping in the shower. Like usual it said our flight should take off on time and land a few minutes early.
After wrapping up the suitcase and heading outside I got my first indication how wrong that was. The often sunny Cupertino was showing it's rainy-season side again with torrential rains. During my first meeting of the day I pulled up the FAA's website and sure enough just down the road San Francisco Airport showed a flow control program in effect. Flow control delays are often quite exacerbating when you're on smaller regional jets because you wait around for the aircraft that was late, get on board and then end up waiting, sometimes for quite a while, for clearance to take off because the FAA is managing traffic flows into the airport you're headed to.
United's site and app, however, showed my flight at approximately 4PM to be on schedule. Wondering how likely that is I traced back just where aircraft #982 was coming from. Turns out our plane started the day in Eugene, Oregon. From there it was bound for San Francisco, on to Tucson and back to San Francisco before making the trip to Boise and back.
While it was annoying enough that United waited until 12:48 PM to send the first text notification that the flight might be late. Mind you at this point the flight from San Francisco to Tucson had just taken off, nearly two hours late. The indication according to United at the time was that we'd leave the gate about 90 minutes late. Flying time to Boise is just over an hour most days so with that 90 minute late departure and some careful planning we'd arrive at the gate in Boise 3 minutes before we took off. Wow good work there United. Please share your time machine.
Because they didn't post an arrival delay the apps for such things continued to let my wife know we'd arrive just ahead of when we were scheduled. But it went on. As I arrived at the airport and returned my car my wife messaged that the flight was arriving a few minutes early. I worried for a brief moment that maybe they'd switched planes and something had changed because I was arriving at the airport at the time the flight was originally scheduled to take off. But about the same time, 8 minutes before our scheduled departure United sent a text message.
The news? Our departure was now delayed 2 hours 40 minutes. However the good news was that we'd still arrive ahead of our scheduled time. In fact we'd arrive more than an hour before we took off. Wow I've really got to check out this time travel thing they've got. It wasn't until another 40 minutes had passed. More than half an hour after our scheduled departure when the folks at United finally updated the Boise arrival time to reflect the delays.
So what, you ask? Well this is more than just a rant about how poorly United treats it's customers and their families. But it's one of those things that makes one ask just how they got to this point. How is it that one builds a system for managing information sharing with customers and have such glaring bugs as "this flight now requires you to travel back in time"? Perhaps we'll soon see an airline advertise not the cooked books they use to show "on time" arrivals, but one that just says "We'll be honest with you". That's it. Flying will suck at times. We will make mistakes. You, dear customer, will make mistakes. But all together we'll just be up front about things and together we'll all get through it. I doubt very much that United is in any way alone or unique here. All of which means the market is ripe for a leader who can come in and provide the transformational guidance to get the changes made.
Oh what's that you say? My flight is cancelled all together? Let the fun and games begin.