by Joshua Brauer on February 7, 2006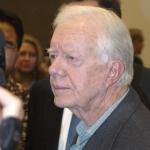 While at the campaign kickoff yesterday I took a few snapshots. Unfortunately those that show candidate Jack Carter did not turn out very well. Those that are in focus are of his delivery of the speech he gave.
Carter's speech was a refreshing change from the political operatives of Karl Rove and the Fox News Channel. To build a stronger America Carter intones that we need a return to family values, the rule of law and leaders who understand Harry Truman's expression of the responsibility of leadership - the buck stops here.
Erin Neff writes in today's Review Journal "Carter isn't a politician and he actually talks sense." Hopefully Carter's campaign will help energize the party before the 2006 mid-term elections.
There are a few other blogs that have posts about the announcement as well as former President Carter's remarks to reporters: