by Joshua Brauer on April 7, 2008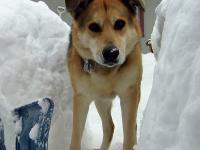 More than a dozen years ago it was clear this day would come. But in the knowing it would arrive does little to dam the torrent of tears it brings. Between there and here is was so easy to forget. Even in the last weeks, reminded by Sam's passing, and knowing that the time was near doesn't really prepare one for what will be. The deep sadness that comes with the passing of a friend. A couple of decades back Linda Rondstat sang:
So goodbye, my friend
I know I'll never see you again
But the love you gave me through all the years
Will take away these tears
It's okay now...
Goodbye my friend

Life's so fragile and love's so pure
We can't hold on but we try
We watch how quickly it disappears
And we never know why

But I'm okay now
Goodbye my friend.
I can go now
Goodbye my friend.
Indeed goodbye my dear friend. The memories are so plentiful that it's hard to know where to begin in telling the story.
Brandy would pass up on fresh cooked bacon to receive praise from people. When she started training as a search and rescue dog she was never big on toys. Wanting to make sure she stayed interested in the "game" I started cooking bacon to offer her as a reward. The first time out with the bacon in my pocket she found the subject on a simple trailing problem. When I reached the subject she was quite excited and happy to be getting all the praise.
A half dozen times I put the bacon to her nose only to be ignored. Finally, exasperatedly, she took he bacon from my hands, carried it a few feet away and put it down, returning for more praise and petting. Once every word of praise and gentle stroke of the people came were earned she returned to eat the bacon.
As work became consuming our time to spend training for search and rescue dwindled and went out. She never got to certify as a trailing dog but never tired of practice and did end up on one mission. We had been at a training weekend near Red Feather Lakes when the call came in. Her role in the mission was to keep the folks in base company which she did and never objected.
At one point we had a back yard with 6-foot wood fencing around it. This presented not much of a challenge to Brandy when she wanted to get out. The odd thing was I could never quite figure out what was happening. I could be tied up at work for a couple of days and not home much at all and Brandy would be in the yard no problem. Then one afternoon I'd run to the store and 30-minutes later return home to find her roaming the neighborhood.
Understanding came in the form of a neighbor putting Brandy in the back yard as I returned home from work. The neighbor said "she comes out and plays with the kids all the time and then we just put her back in the yard." Only then did I realize that the common factor in her getting out was the weather and school schedules. If it was a warm day and school was out the kids would be in the street and so would Brandy.
When she came from the pound her information said she needed a family with a stable home. As much as she loved kids she hated moving. The hustle and bustle of packing would send her into a very quiet depression. Once the truck arrived she wouldn't leave my side until she was in the car with me. Although she never liked moving she was quick to adjust to our new place. Moves within Colorado, Nevada and Idaho brought very different terrain, weather and activities, but she quickly adapted wherever we went.
Brandy was friendly and fun loving but also very protective. A bad reaction to a sedative at the vet hospital sent her to the ICU for the better part of a week. On one of the follow up visits she was standing beside me at the checkout counter. The glass allowed me to see the hospital administrator walking around the corner. As he came around the corner he extended his hand to shake hands. Without the benefit of seeing around the corner and not knowing his intent, Brandy took a bite of his hand to let him know he'd crossed a line. (Fortunately he wasn't hurt in the incident.)
Water, other than the drinking kind, was never really Brandy's friend. As with toys peer pressure coaxed her into the water once or twice. Her reactions to thunder weren't any more friendly. The most distant clap of thunder could pack her large body into the rather small space under the desk before a second roll of thunder would arrive.
As the years passed Brandy's body failed her but never her spirit. And we were quite lucky. We had a great run together. Just a couple of weeks back she somehow made it up the stairs to the second floor of the house. We'd stopped worrying about the gate because in her elderly way she wasn't apt to make the treck up the flight of stairs. Yet, somehow she came upstairs to see who was home. Even in the last week, when every movement needed assistance, her eyes and face so clearly said "I want to go on another hike". It was a good long run and mourned the passing of many friends along the way. Goodbye my dear friend.