by Joshua Brauer on November 22, 2008
Google's new themes for Gmail are quite fun and have convinced me to spend much time on their site each day trying to get my theme to update. The different mountain views are great though it would be really nice if there was an easier and faster means for getting it to update. Anyway as I was browsing today the following ad popped up...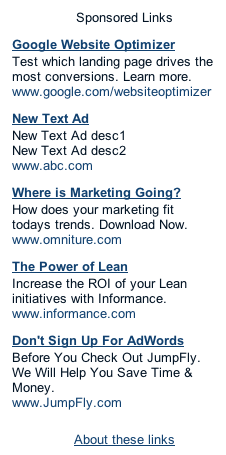 Now it's not going to make the Tonight Show as one of the odd ads of the week but the "New Text Ad" is kind of funny. While it suggests it might lead to abc.com it doesn't really. It instead leads to a broken page link.