by Joshua Brauer on September 12, 2010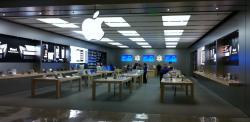 The Apple Store in Boise is now open. Judging by the crowd a half hour before closing on Sunday, the second day the store was open, it looks to be doing a booming business. Lots of blue-shirts too so it seemed that while there was a crowd nobody was leaving with questions unanswered.
More interesting is the lack of any storefront. This picture is a Newark store which is similar but the Boise store lacks even the two panels of glass at the sides. There is no front display and the first thing customers encounter are helpful Apple employees and tables of product.
The store was better stocked than any store I've been in of late. I didn't check to see what iPhone and iPad availability is but the accessories dwarf the other stores I've visited.
I'll have to stop in tomorrow and get some pictures of the glass-less front. It's really open and inviting. I commented on it to the employee who mentioned they'd just learned today that you can use a bluetooth keyboard with an iPad and was told it is the open and inviting style of all their stores.
Another employee asked if I owned any Mac products. I don't think they believed me when I said pretty much all of them. I was also asked if I'd been to any other Apple stores and started trying to count how many I've been to and decided instead to count the states. A quick, and perhaps incomplete tally, says it's 11 states. In several of those including California, Colorado and Oregon it's been several stores within the state.
It's great to have an Apple store in Boise after all these years.