by Joshua Brauer on September 1, 2010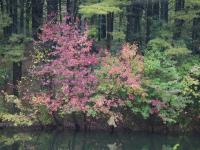 September has sprung. To kick off the month here are five things to ponder.
First up as fall comes so does the football season. Tackling, blocking and trick plays abound. Perhaps the Western Athletic Conference should have considered Boise State's bragging on the radio about "creativity on the football field" to include sharing trick plays with their new conference, the Mountain West Conference. So far the most entertaining plays have been the off-the-field plays between the WAC, BYU and the MWC. Ultimately it's bemusing to see the mis-management that's kept the WAC in the basement of athletic leagues sink the ship. Having gone from courting BYU to not enough teams to remain a conference in the blink of an eye.
At Utah State University what's your reward for standing by BYU? Not much but a ticket for another ride on the sinking ship WAC. If a conference's sole chance of survival is public demands for $10 million from departing schools you're definitely scraping the bottom of the barrel. And good luck collecting on that agreement based on the email versions of the 'agreement' circulating out there. Memo to the WAC you'd be much better off trying to trade for San Diego State and UNLV than chasing the dollars you'll never see. Maybe the season will be interesting enough to get back into some publishing on the topic.
Next up is today's Apple announcement. Everybody ready for the iTV? I strongly doubt it. I'm still hoping for an update to the Apple TV but one thing Apple hasn't done is be stupid about branding. Sure they've had mistakes, including initially announcing the TV product as iTV but they've fixed them. Other examples include iOS, which was licensed from Cisco, Mighty Mouse, which Apple re-named the Magic Mouse when hit with the complaint and OS X itself since the name OS 10 was already taken. While it's true they could have done things oh so much better with the iPhone 4 problems (maybe I'll get around to writing about that someday) but they haven't made many naming mistakes. My biggest hopes are for iPhone 4 updates, iOS 4 for the iPad and perhaps a new Apple TV to replace my aging one and convince me it's better than a shiny new Mac Mini.
Third on the list 27 is the magic number. As of midnight EDT that's the number of critical issues in the Drupal 7 issue queue. Before the end of the month we could be working with Drupal 7 betas.
The other magic number is 11. That's the day Boise's Apple Store is expected to be opening. It will also be near the end of a nice break in western Montana so lots of great things going on that day.
And last but certainly not least is Acquia. Today marks two years since I joined this amazing group of people. It's always great going to work where you are surrounded by people you can learn so much from. This doesn't even begin to touch on our fantastic customers. One of the most wonderful things about being a Drupalist at Acquia is the sheer variety of customers we get to work with on a day-to-day basis. From small businesses, civic organizations to some of the largest most amazing installations of Drupal one can imagine it never gets old. And of course on top of all that there is Drupal Gardens which continues to blow my mind every time it comes out with new features.