by Joshua Brauer on February 20, 2012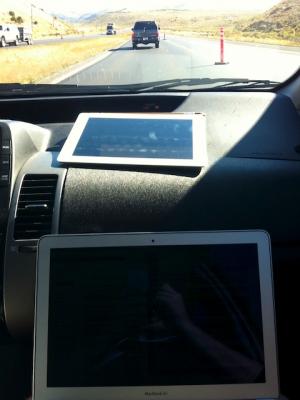 A family member recently sent a question to my wife about how to keep photos safe while traveling.
And speaking of road trips, we are heading to Hawaii and are planning on getting an iPad for entertainment along the way. We are wondering if you have used your iPad as a photo transfer station from your EyeFi card to your iPhoto at home. Does it work that way? We don't have a laptop, so we were thinking an EyeFi card would allow us to take pictures and upload them to our iPad (and ultimately our computer) for safe keeping. Or, would we be better off taking the card to the local Costco to get a cd made to make sure we have the pics safe and sound? Thank you for any insight you might be able to offer.
This is a workflow I've spent quite a bit of time on over the years. My thinking is definitely affected by two instances of losing photos I'd really like to have back.
The first instance where I lost photos was years ago on a business trip to Wichita of all places. I'd taken some photos on the plane as well as some pretty nice sunset photos. I'd reviewed them on the camera's (tiny by modern standards) screen and shared them with colleagues on the trip. When I downloaded the photos I didn't notice that the card was evidently corrupted in some way and only a portion of the photos were saved to the computer. Thinking that all was well the card was formatted and I went on shooting. Had I caught it in time I could have likely used some card recovery software and gotten back at least some of the photos.
After that first instance I became wary of shooting high capacity cards. By today's standards the card wasn't all that big (512MB perhaps), but I learned that almost like having separate rolls of film in the old days I like having more smaller cards that I cycle through more quickly on a trip rather than a few larger cards. And it's a good thing.
Last year I was in Vegas for a friend's wedding. I shot some of the obligatory photos in front of the "Welcome to Vegas" sign, the reception and the post-reception party. When it was time to shoot the dances at the post-reception party I noticed I was getting towards the end of the space on the card in the camera and swapped it out for a fresh card. After shooting the dances and the party I retired to my hotel room across town. Before going to bed wanted to transfer the photos to my laptop for review the next day. It was then, at two-o'clock that I realized the card in my camera had come out. Though I'm still not sure why I am sure it wasn't fun to drive back across town and spend hours scouring the floor of the reception area, casino and parking garage for a red and black memory card the size of a quarter. Though many folks pitched in and helped look we didn't ever recover the card. However all is not lost since I'd changed cards before the dances it meant only this one part of the day was lost not the entire day as it might have been otherwise.
So with these experiences as background for how I think about this what about the question of the Eye-Fi. I bought an Eye-Fi several years ago for my wife. It's not one of the latest X2 versions.
The Eye-Fi provides several interesting features including automatic upload of images via Wi-Fi networks. The ability to use any AT&T public wireless network and wi-fi based location geotagging of photos are two features that are optional on the X2 line of Eye-Fi cards. Notably each of these features is an extra $30 if you don't get them with the card. This effectively makes the Eye-Fi Pro X2 the only card worth considering if one intends to use these features. Amazon lists this 8GB SDHC card at about $80 which is a 20% discount off the manufacturer's suggested pricing.
A quick look at Amazon suggests the average 8GB SDHC card sells for $7-$10. So is the Eye-Fi worth so much that it's worth smacking down an extra $70 for it? My short answer if you're bored is definitely not. Read on for some ideas on other ways to handle it instead.
First as I noted earlier, especially for vacations, my preference would be to buy 8 of the 8GB SDHC cards and rotate through them instead of banking on a single card. I've never had any problems with the Eye-Fi card we have but as we all know things happen. It could have just as easily been the Eye-Fi card that popped out of my camera on the way back to the car that night. If I'd been in a place with an open WiFi network I'd have been better off as some of the images would have been uploaded. I wasn't and it wouldn't have helped that night.
Here are some alternatives I use instead:
Use an Apple iPad Camera Connection Kit (MC531ZM/A) or 5 in 1 Card Reader for iPad (haven't tested this one) to upload photos from cards to the iPad
Use Dropbox to upload photos from a hotel business center or public internet location. (Note that this involves transferring your photos to the machine you're using so it may not be something you want to consider)
Use Dropbox and one of the camera connection kits to upload photos to an iPad and then from there use WiFi somewhere to upload them to Dropbox (note you can use 3G as well but this will chew up data plans quickly so think twice about it
Locate an Apple store along your journey and borrow the free WiFi there, and possibly a laptop to do some of the above
Find places where you can burn a DVD along the way and mail it to yourself this helps too if your bags are lost or stolen and you haven't uploaded photos yet.
Especially when I'm in a location taking more than 1 or 2 photos I will often snap a photo or two with my iPhone (or a 3G iPad works as well). This gives me a geotagged photo that I can then tell iPhoto to use for pictures from my DSLR.
Aperture. iPhoto did the job for a while. Aperture does it for real now.
It's also important to think about the ways you intend to use the iPad. If you're planning to load up a few movies for each direction and take along some TV shows in case you don't like the movie on the plane it's not too difficult to fill up an iPad. Consider the size of photos and whether you're shooting just JPEG or RAW or shooting JPEG+RAW as to how much space each frame will take up on the iPad. Finally if the trip involves going to visit people who you want to share photos from home with friends and family the iPad may not have as much space as you counted on to start with.
Finally if you're considering an iPad purchase at the moment be sure to take a look at the rumors around the web. Apple does not announce dates ahead of time generally but many sources are hinting at a possible iPad 3 (or maybe iPad 2s?) being announced in a few weeks.